Agbazémé
Choreographic and musical piece for six interpreters
Artistic Direction Julie Dossavi. Music originally composed by Yvan Talbot.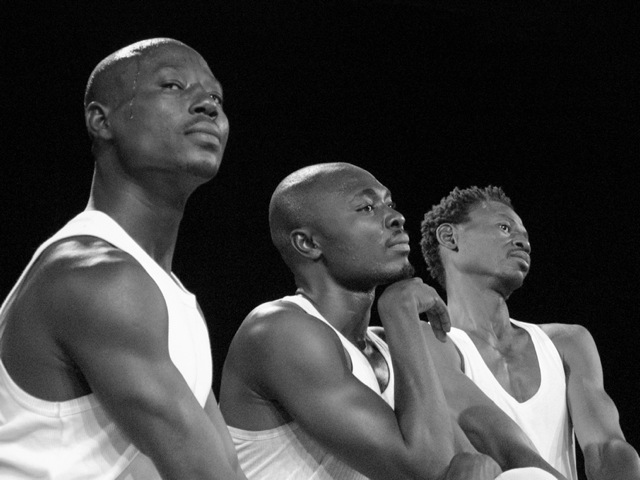 This creation originates a workshop led by Julie Dossavi at the French cultural centre of N'Djamena in 2003 and attended by 24 dancers (3 of which were women). Religions, cultures, gestures cross and jostle together. The encounter is meaningful, difficult, exciting...
Agbazémé ist about being a women, danced and interpreted through a man's body. Julie Dossavi asked three dancers from the Jeunes Tréteaux, the National Ballet of Tchad and the Etoile Ballet to work on this theme: to embody a woman, to step in women's shoes...
Invited to develop their own body langage, they worked on creating a dialogue with a java-tribal atmosphere made of traditionnal West Africa sounds and contemporary sounds.
Distribution
Conception and choreography Julie Dossavi
Music originally composed by Yvan Talbot
Sound engineer David Godard
Light designer Laurent Matignon
Costumes Valérie Saïd
Cast
Nadjitessem Gaondi, Taïgue Ahmed and Ali Kouldjingar Longarti - dancers
Yvan Talbot - percussions
Frank Quinard - drums and guitar
Eric Proud - accordeon
Production
Compagnie Julie Dossavi - French cultural centre of N'Djamena - Angouleme Theatre - La Coursive, Scène Nationale de la Rochelle - Palaiseau City - CNCDC Châteauvallon / Coproduction Centre Chorégraphique National du Havre Haute-Normandie (accueil studio)
With the support of Poitiers City, Région Poitou-Charentes, DRAC Poitou-Charentes, Culturesfrance, Arcadi (Action Régionale pour la création artistique et la diffusion en Ile de France), Culturesfrance
Duration 75'
Copyrights Photo : Rights Reserved